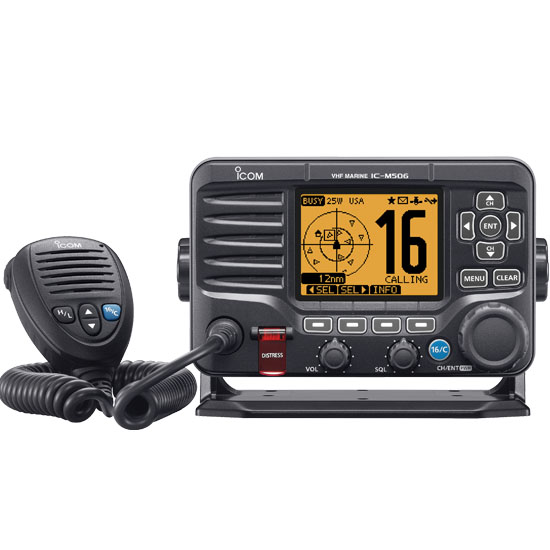 ICOM $100 Mail in Rebate from Mar thru Apr 2018
Marine Man has the best prices in the South
5 different versions of the M506
M506-01 FRONT MIC basic radio
M506-11 FRONT MIC + NMEA2000
M506-21 FRONT MIC +NMEA2000 + AIS
M506-31 REAR MIC + NMEA2000
M506-41 REAR MIC + NMEA2000 + AIS
Email or Call for pricing
Fixed Mount VHF and AIS Receiver Combo with NMEA 2000® Connectivity
One Platform — Five Real World Solutions
| | NMEA 2000® | AIS Receiver |
| --- | --- | --- |
| M506 AIS Front (Front Mic) | 0183/2000® | Integrated AIS Receiver |
| M506 AIS Rear (Rear Mic) | 0183/2000® | Integrated AIS Receiver |
| M506 N2K Front (Front Mic) | 0183/2000® | Not Included |
| M506 N2K Rear (Rear Mic) | 0183/2000® | Not Included |
| M506 NMEA | 0183 | Not Included |
Integrated AIS Receiver
With an integrated AIS receiver, the IC-M506 can show AIS vessel traffic information on the display. The AIS target call function allows you to easily set up an individual DSC call. The Plotter, Target list and Danger list can be toggled on the display.
AIS Plotter
AIS Target List
Channel and Position
NMEA 2000® and NMEA 0183 Connectivity
With the plug-and-play functionality of NMEA 2000, the IC-M506 can easily connect to a NMEA 2000 network and interconnect with other equipment. Also the NMEA 0183 input/output can be used for external GPS/NAV interface.
Last Call Voice Recording
The last call voice recording function automatically saves the last two minutes of the last incoming call. You can also start recording manually.
Active Noise Cancelling
The built-in bidirectional active noise cancelling reduces background noise to up to 90% and improves both your transmitted voice and incoming call.
25W Two-Way Hailer
When connected to an external hailer horn, you can talk to people on the deck or shore from the radio's microphone and can hear people's reply via the hailer horn. Foghorn and RX speaker functions are also available.
Optional COMMANDMIC™ HM-195B/SW
The optional COMMANDMIC, HM-195B/SW provides 2nd station capability for using the IC-M506 from a separate cabin or tower. Most functions including DSC and AIS functions can be controlled from the COMMANDMIC and can be used as an intercom between the IC-M506 and the COMMANDMIC.
Large LCD and Intuitive User Interface
The IC-M506 is equipped with 132×96 pixels dot-matrix display which is larger than the IC-M504 (132×64 pixels). Reading GPS, AIS, DSC and radio menus are easier than ever. The bottom line of the display shows the software key functions and the functions can be toggled with the left and right buttons.
More Great Features
80dB (typical) IMD and channel selectivity
MA-500TR AIS transponder and Marine-Commander™ compatible
IPX8 submersible plus protection (1m depth for 60 minutes)
Rear panel microphone version
Optional voice scrambler


Optional fully integrated COMMANDMIC
ΙV
TM
COMMANDMICIVTM (HM-195) 4th Generation Command & Control A new look for total control of all communications and Class D DSC functions.
New Icom marine family user interface
he new menu system provides easy and intuitive operation. The bottom line of the dot-matrix display shows the software key functions which can be toggled with the left and right buttons. The directional keypad allows you to perform various operations and settings.
Other features
IPX7 Submersible rating
Superior audio performance
Total control of all communications & Class D DSC functions
AquaQuake™
The COMMANDMICIVTM (HM-195) remote-control microphone size (W × H × D): 67.5 × 144.5 × 37 mm; 2.66 × 5.69 × 1.46 in.
Weight (approx.; except cables): 400g; 14.1
______________________________________________________________
Other ICOM marine radios available:
ICOM M424G ICOM M605, ICOM M802
______________________________________________________________
Email me for your FREE owners manual, to see if this is the radio you need.
Ask Me Radio questions, even if you did not buy it from me
or Order equipment by:
Phone Fax or Email delcomindustries@yahoo.com
Equipment prices subject to change at any time without notice!